News Archive
Annual Genomics Workshop (July 2014)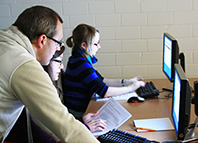 The second 'International Workshop on Prokaryotic Genomics & Bioinformatics' took place July 23-25, 2014 at the Göttingen Genomics Laboratory (G2L) in Goettingen. The first course was organized in October 2013.
The three-day course provides an introduction to the methods and tools used in genome and transcriptome analysis. The major topics covered include sequencing applications/technologies, genome annotation, comparative genomics, transcriptomics, as well as metagenomics. Hands-on exercises using state-of-the-art bioinformatics tools were included for all topics covered by the course.
The course was held by Professor Rolf Daniel and his team from the Institute of Microbiology and Genetics of the Georg-August University Goettingen. In 2014 the Goettingen tutorial team was supported by three excellent external lecturers: Dr. Boyke Bunk from DSMZ Braunschweig, Dr. Konrad Förstner from Würzburg University and Dr. Nikos C. Kyrpides from the DOE Joint Genome Institute in Walnut Creek, California (USA), who ensured an interactive and entertaining wind up of the Workshop.
The next workshop will take place in July 2015.